ABS Reports 'Stellar Growth' in 2014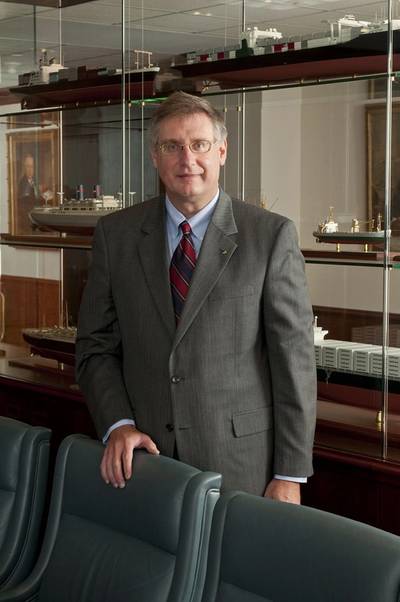 "2014 was a year of firsts and excellence in performance for ABS,"
said Christopher J. Wiernicki
, ABS chairman, president and CEO. "We achieved the goals we set for ourselves and secured the largest orderbook share in gross tons by focusing on quality, operational excellence in service delivery and targeted investment."
In 2014, the ABS-classed fleet grew by more than 7 percent year-on-year to 221 million gross tons (gt). ABS captured more than 31 percent of the liquefied natural gas (LNG) carrier orderbook and 23 percent of the very large LPG carriers on order.
Crude tankers continued to represent the largest amount of tonnage within the ABS-classed fleet. In 2014, the total increased by nearly 4 million gt to over 77 million gt, which equates to over 1,300 vessels. Total tonnage in bulk carriers increased to 46 million gt, with 351 bulk carriers representing over 20 million gt on order to ABS class.
In the offshore market, ABS was active in both the global shallow-water and deepwater market sectors building on its strong relationships with shipyards, suppliers, operators and drilling contractors.
The organization maintained its leading class share for mobile offshore drilling units (MODUs) and floating production installations and once again classed the majority of the world's jack-ups for the calendar year. ABS held a 56 percent share in both the drillship and semisubmersible sectors at year-end and closed out 2014 with 45 percent of the offshore production units in operation.
In the area of Port State Control, the ABS-classed fleet maintained its strong performance track record, consistently in the top tier of the major Port State Regimes on a global composite basis.
The ABS technology portfolio continued to drive innovation in areas such as icephobic nanostructured coatings and surfaces to support Arctic operations and computational fluid dynamics to help shipyards and designers improve efficiency and environmental performance. Offshore research efforts were directed to improving jack-up safety, working with operators on dual-gradient and managed pressure drilling technologies and assisting innovative designers that are developing innovative solutions to offshore exploration and production challenges.
Wiernicki noted, "ABS is proactively defining this new reality by evolving service delivery and the survey experience. Our vision for 'FutureClass' will be characterized as more condition-based, continuous and risk-driven."
Advancing predictive, data-driven analytics is essential to accompanying the industry into the future, ABS said.