Hays Awarded Statoil Research Prize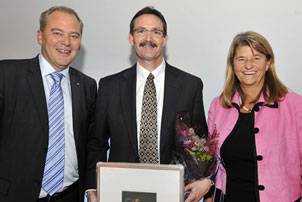 Professor Curtis Hays Whitson has been awarded Statoil's research prize 2010 for his major input to boosting knowledge about recovery of gas and gas condensate fields and improved recovery of oil fields by the use of gas injection.

The prominent researcher came to Norway in the early 1980s. As professor and entrepreneur he has conducted numerous studies for Hydro and Statoil in connection with field implementation of gas injection on the Norwegian continental shelf (NCS) and internationally, as well as studies related to gas field recovery and phase behaviour of reservoirs.

Several of these studies have been important contributions to enable the company to make the right decisions on implementation for improved recovery, for example in the Sleipner and Oseberg areas in the North Sea and the Åsgard area in the Norwegian Sea.

The NCS is world-famous for its high oil and gas recovery rate. On the Statfjord field more than 70% of all oil in place is expected to be recovered and on the Oseberg field the percentage exceeds 60.

"These figures are exceptionally high on a world-wide basis, and gas injection is essential to many NCS fields," said Lars Høier, chief researcher in petroleum technology in the Technology & New Energy business area.

When gas is injected correctly in the most suitable field candidates, it could really boost the oil recovery rate. So far, a good 600 billion standard cubic metres of hydrocarbon gas have been injected on the NCS, which resulted in an estimated additional recovery of around 300 million standard cubic metres of oil.

Furthermore, an increasing amount of gas has been discovered in frontier fields on the NCS. Proper knowledge of how to recover gas condensate from reservoirs in an optimal manner is crucial to be able to export large amounts of gas and condensate from these fields to for example Europe.

Curtis Hays Whitson has contributed strongly in both these areas to broaden the knowledge in Norway and in Statoil. He has managed to balance high-level academic research and close cooperation with the petroleum industry.

"Driven by strong curiosity and an eye for quality his research on oil and gas recovery has provided important input and received wide international recognition," said Høier. "Topics such as fluid understanding, efficient recovery of gas condensate fields and improved recovery by the use of gas injection run like a thread through his work."

Professor Whitson has published a number of international journals and written educational books. He has received several international recognitions, including the recent Society of Petroleum Engineers's (SPE) prize Antony F Lucas Technical Leadership Gold Medal 2011.

Curtis Hays Whitson has worked at the Norwegian University of Science and Technology (NTNU) since the mid-80s, and as professor from 1988. He has been a tutor for a large number of master (~100) and PhD (~15) students, of whom many are employed by Statoil today.