Research Ship's ADVETO ECDIS-4000 Upgrade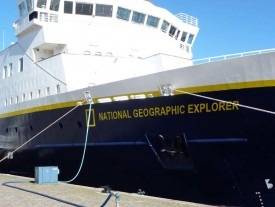 Sweden's Adveto ECDIS-4000 system on board 'National Geographics Explorer' upgraded to fulfil IMO compliance standard.

During the vessel's recent visit to Scandinavia the National Geographics Explorer was successfully upgraded with the latest software from ADVETO.

The new software release has been tested and meets the standards set for ECDIS by the IHO, with particular reference to the recent IHO circular 'Update Report on IHO Action concerning ECDIS Software Issues'.

IHO said that it had checked the performance of systems from 15 out of 25 recognised manufacturers of type-approved ECDIS, many of which included the most well-known brands in the industry. It reported that only one third of the systems scrutinized functioned as expected. "We have put our systems through the most stringent of tests set by the IHO and submitted our report to them along with the test and support documentation as well as screen dumps required in the latest circular," says Kent Sylvén, General Manager ADVETO.

"The previous generation ECDIS-4000 did not match the exhaustive criteria set out in the IHO report in some minor areas, however none of the shortcomings were critical. The new version of ECDIS-4000 is a result of extensive work at Adveto and its partners," added Sylvén.

ADVETO Advanced Technology AB is a limited company, privately owned, based in Stockholm, whose systems are widely used by a variety of vessels.