New Response Boat for US Coast Guard St Ignace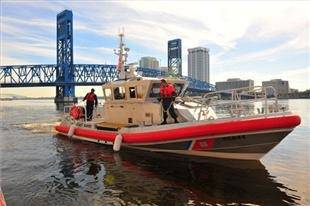 The crew of Coast Guard Station St. Ignace, Mich., has taken delivery of the station's new 45-foot Response Boat-Medium.
The station crew will be running tests on the new boat out of the St. Ignace Harbor within Lake Huron, to gain experience of its advanced capabilities.
The RB-M can respond faster than previous boats of similar size and has a top speed in excess of 40 knots with advanced search capability and with an installed forward-looking infrared search technology.
Additionally, with twin jet propulsion, the vessel is extremely maneuverable and is better suited to respond to mariners in distress in shallow water.
The boat has a deep-V, double-chine hull, which provides a balance of performance and stability. It can handle heavy seas and waves up to 12 feet and carry up to 24 people, and if it capsizes due to rough weather, the boat is designed to right itself.
"Our crew is eager to start training with the new platform and utilizing its advanced systems to prevent loss of life," said Senior Chief Michael Beatty, officer-in-charge of Station St. Ignace.