Maersk Line Returns to Boston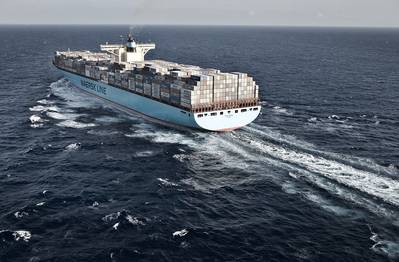 Maersk Line, the world's largest container shipping line, resumed operations at the Port of Boston's Conley Container Terminal with the arrival of the Sealand Illinois on Thursday, the Massachusetts Port Authority (Massport) announced.
Maersk, which last operated out of Boston in 2000, is the seventh major global container line currently servicing the city's port.
Boston will be the second U.S. port of call after New York on Maersk Line's TA5 service, part of their East-West Network. Foreign calls on this service will include Algeciras and Valencia, Spain, Sines in Portugal, and the Italian ports of Gioia Tauro, Naples, Leghorn, La Spezia, and Genoa.
Maersk Line is the seventh major global container line on the Port of Boston's current list of service providers, joining Mediterranean Shipping Company (MSC), COSCO, K-Line, Yang Ming, Hanjin Shipping, and Evergreen Line. Both Hanjin and Evergreen made their maiden calls at Conley Terminal in 2014.
Port Director Deborah Hadden said that Boston's Conley Container Terminal has seen steady growth in container volume over the last several years. Container volumes for 2014 were up 10-percent from the previous year for a total of 214,243 twenty-foot equivalent units, or TEUs, which is the standard unit of measurement for container volume. This represents the second-highest volume the terminal has ever seen, just behind 2007's record of 220,339 TEUs. The addition of Maersk Line to the Port of Boston's portfolio is expected to help move the Port of Boston toward a new all-time record.
Each year, more than 1.5 million metric tons of cargo passes through Massport's terminals in the Port of Boston.