i-TEC Launches Revolutionary Well Technology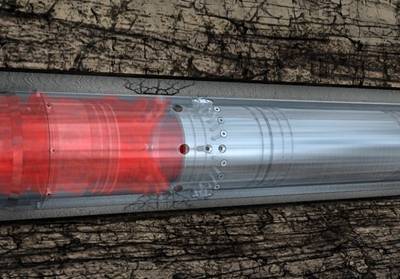 Stimulation of offshore well achieved in 1.5 days, in contrast to the normal 40-50 days.
Well technology company i-TEC has developed a unique, new lower completion ball drop sleeve system which can radically reduce the time it takes to stimulate a well. The i-Frac system allows operators to bring wells in tight formations on line much more quickly than other methods, resulting in potentially huge cost savings and earlier production revenues. The system recently reduced stimulation of a North Sea well on the Norwegian Continental Shelf to only one and a half days, as compared to the normal of 40-50 days. It allows for more than 20 sleeves per stage to be installed in a cemented liner and opened sequentially with a single ball. A number of stages can be run in a single well.
The recent installation was in early paleocene and late cretaceous, carbonate formations in the Norwegian sector of the North Sea. The technology also has huge potential for global shale oil and gas plays, particularly in the United States, where in some tight shale fields it could allow an operator to fracture twice as many wells in a year compared to traditional methods. The recovery of oil and gas in limestone and tight shale formations is accomplished by drilling horizontal wells to increase the well-reservoir contact. Each well is divided into zones which are individually opened to carry out a controlled and efficient stimulation of the formation rock.
Traditionally, this has been a complex and time-consuming process involving the need for running perforation guns, plugs and stimulation equipment into and out of the well for each zone. Additionally, the use of explosive charges involves considerable risk. The use of i-TEC's technology enables the well to be completed in a single, continuous process with the additional environmental benefit of a reduction in water use.
On the Norwegian shelf, i-TEC was able to open 56 valves in three zones by dropping only three balls. Instead of using the most common "plug and perf" technique, i-TEC used different size balls which were pumped into the well to open all the valves in each zone. This technology also enables the inclusion of a far greater number of valves as compared to alternative solutions.

"Preparing a well for production is a costly and complicated undertaking," said i-TEC CEO Roger Antonsen. "As a company, our focus is on engineering evolution and i-Frac fits well within our strategy. The technology not only adds great value in that you are able to start the production in shorter time, but it also provides a greater reservoir contact, which improves the stimulation of the well. Additionally, the utilization efficiency of the oil reservoir is significantly increased, and our solution also allows for conventional cementing around the production string, which improves the zone isolation.

"We have observed a significantly reduced consumption of water in the use of our technology, which has an environmental benefit. The i-Frac system delivers a revolutionary reduction of cost and risk, as well as increased recovery from the reservoir."
An animation of the i-Frac system in action can be viewed at http://vimeo.com/32327730