Rickmer's Group Worth $740 Million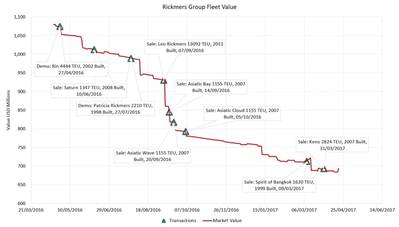 Following last month's news that Singapore Based Rickmers Maritime Trust is to be wound up, Rickmers Holding AG released a statement on April 19 reporting that an understanding had been reached regarding restructuring of the Rickmers Group.
It is understood that sole shareholder Bertram Rickmers will reduce his shareholding to below 25 percent, while the remaining 75 percent will be taken by lenders and bondholders.
The value today of the Rickmers Group (a Rickmers Holding AG subsidiary) sits at $740 million, according to VesselsValue.
The group owns four handy containerships currently being built at Jiangsu New Yangzijiang in China. These newbuilds are worth $68 million.
The fleet is made up of four MPP vessels, two vehicle carriers and 35 container vessels ranging from Feedermax class to New Panamax.
Over the last 12 months the fleet has declined in value by 31 percent, in line with the decline of the liner business that is plagued by oversupply of tonnage and slow demand growth.
This decline is supplemented by strong selling and demolition activity from the ship owner, with 10 vessels having left the fleet in the last 12 months.