USCG Shares Safety Tips for Labor Day, Riverfest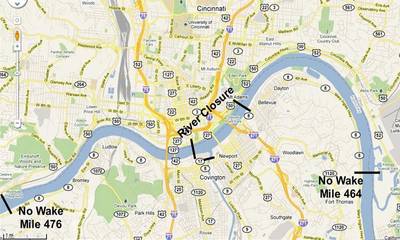 Labor Day weekend marks the unofficial end of the boating season and is known as one of the busiest recreational boating weekends on the Ohio River. With approximately 2,000 boaters taking to the water, the increased recreational traffic presents additional safety hazards.

Coast Guard Marine Safety Detachment Cincinnati would like boaters to know special rules are in place for Labor Day and Riverfest and would like to remind people to exercise safe boating practices.
The Coast Guard will be enforcing a no-wake zone, designated anchorage areas for spectators to view fireworks, and a cardboard boat race area. These safety precautions are geared at minimizing the hazards associated with the on-water events and the increased boating traffic.
In addition to a special local regulation, there will also be a safety zone for the fireworks display. This safety zone will result in a river closure.
The river closure will be in effect from mile marker 469.2 to mile marker 470.5 on the Ohio River from 7 p.m. until the end of the fireworks display Sunday. Entry into, transit within, or anchoring in the zone is prohibited by all vessels unless specifically authorized by the on-scene Coast Guard patrol commander.
The no-wake zone will be enforced from 12 p.m. Sunday to 3 a.m. Monday. Vessels transiting between mile marker 476 to mile marker 464 on the Ohio River and mile marker 0.0 to mile marker 3.0 on the Licking River shall operate at a no-wake speed and may only stop or anchor in one of three designated anchorage areas.
Anchorage 1: Ohio River at mile marker 470.5 to 470.7 and 300 feet from shore on the Kentucky shoreline.
Anchorage 2: Ohio River at mile marker 469.6 to 469.2 and 300 feet from shore on the Ohio shoreline.
Anchorage 3: Ohio River at mile marker 469.6 to 469.2 and 300 feet from shore on the Kentucky shoreline.
Cardboard boat race area: No vessel may transit within 300 feet of the Ohio shoreline between mile marker 469.8 and mile marker 470.0 from 12 p.m. to 3 p.m., Sunday to ensure safety of the cardboard boat race occurring along the Serpentine Wall.
Safety tips for anchorage areas:
Vessels intending on anchoring in the designated anchorage areas should be equipped with a suitable anchor and anchor line.

Boaters should exercise caution in use of the vessel's battery. Powering a radio or other auxiliary equipment throughout the day may drain a vessel's battery. A battery jump pack is highly recommended in the event that your vessel becomes disabled.
Safety tips for boaters prior to leaving the dock:
Never boat under the influence. Alcohol is the leading contributing factor of all fatal boating accidents. It is against the law for anyone to operate a vessel on the water under the influence of alcohol. Consumption of alcohol by anyone else aboard is strongly discouraged.

Always wear a life jacket. A life jacket is required for each person aboard a vessel, sized accordingly and easily accessible. Children younger than 13 years old are required to wear a life jacket at all times.

Carry a VHF-FM marine radio. Boaters should have an operational marine VHF radio on their boat in order to contact the Coast Guard in the event of an emergency.

In lieu of a VHF-FM marine radio, a fully charged cell phone is recommended. In the event of an emergency the Coast Guard can be reached on VHF-FM 16 or at 800-253-7465.

Have a Vessel Safety Check. The Coast Guard Auxiliary offers free vessel safety checks and can be reached at www.cgaux.org. A vessel safety check is the best possible way to learn about potential violations of state and federal requirements. Most importantly, these quick exams can keep your boat and passengers out of harm's way.

Boaters should be aware of, and obey, all federal and state regulations for recreational boating and navigation.

For more boating information, go to http://www.uscgboating.org/