Rivergate Finishes Work on MY Steve Irwin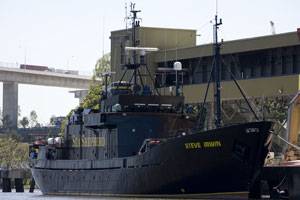 Rivergate Marina and Shipyard has completed the new helipad onboard the Sea Shepherd Conservation Society's flagship, the MY Steve Irwin.

Rivergate's bid to fit the new helipad was accepted due to a design to move the helipad from the hangar to the fore deck.

"Some of greatest ideas come from utilizing tried and tested technology in a new and different way," said Mr Steve Fisher, General Manager of Rivergate. "The engineers, Marine Engineering Consultants, devised a system of a retractable the landing pad from the hangar out to the aft deck using a system of genoa tracks commonly used on sailing vessels. This system dramatically reduced the cost and ultimately, won us the bid."

After three months of construction, the M.Y. Steve Irwin now has a purpose-built landing pad and hangar on its stern for their next campaign.

Used to defend whales against illegal whaling operations in the Southern Ocean, the M.Y. Steve Irwin completed the construction over the last three months, close to the home of its name sake, the late Wildlife Warrior, Steve Irwin.

"I would like to thank the Rivergate staff who assisted us in completing the helipad on board the Steve Irwin. Rivergate's ability to coordinate contractors, tradesman and projects in a seamless, timely fashion was very impressive. I would highly recommend their facility," Captain Paul Watson.

The 60 metre vessel will depart Brisbane on Wednesday 3rd December 2008 with founder and captain, Mr Paul Watson, and celebrity activist Ms Darryl Hannah.

Established in 1977, Sea Shepherd Conservation Society is an international non-profit, marine wildlife conservation organization whose mission is to end the destruction of habitat and slaughter of wildlife in the world's oceans in order to conserve and protect ecosystems and species.