Rolls-Royce Extends Service Capability in S.Korea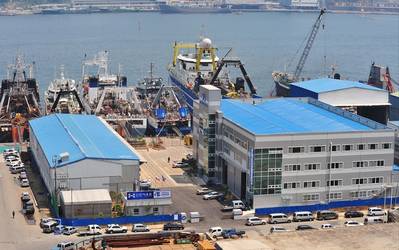 Rolls-Royce has extended its service capability in South Korea by partnering with Busan-based ship repairer Sunjin Entech.

The new service agreement means that Rolls-Royce can now provide customers with a bespoke one-stop service solution at the Gupyung and Youngdo yards, Sunjin's two main repair hubs.

Kim Jae Chul, Sunjin Entech, President said: "This partnership agreement with Rolls-Royce allows us to enhance the technologies and services we can offer our customers. By packaging quality spares and services from Rolls-Royce into a single ship repair solution we become more competitive and attractive to existing and potential customers."

Anthony Tan, Rolls-Royce, Marine Services Director – Northeast Asia, said: "Sunjin has established a solid reputation for ship repair over the past 52 years and this new agreement will further strengthen and enhance its standing in a competitive ship repair market. Sunjin has piers and docking facilities that are ideal for providing a total ship repair solution for engines, hulls, hydraulic equipment and piping work from one location."

The Gupyung facility, situated by the waterfront in the Saha-gu area, benefits from a floating dock and four finger piers up to 100m in length. These are supported by 15t and 30t Goliath cranes and a state-of-the-art milling, welding and testing workshop.

The Youngdo facility is in the Youngdo-gu area and both facilities offer repair solutions for a broad range of marine equipment and vessel types.

Sunjin Entech also offers a range of crew services to customers, including a seafarers' centre and a Russian translation service.