Rolls-Royce to Power Zhuhai Ferries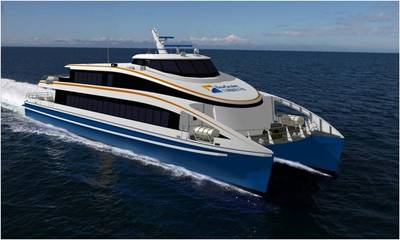 Rolls-Royce has been selected to supply waterjets and high speed MTU diesel engines to power two new aluminium catamaran fast ferries for Chinese ferry operator Zhuhai High-Speed Passenger Ferry Co Ltd. The ferries will be some of the first to feature the highly efficient Rolls-Royce Steel S71-4 waterjets signifying the company's growing presence in the marine market of South China.

Richard Wang, Rolls-Royce, Senior Vice President – Commercial Marine, said, "These waterjets are developed specifically to meet the reduced speed requirements of many high-speed ferry operators. Our expertise in hydrodynamic analysis has enabled us to further develop our product in response to market conditions and specific customer requirements.

"This is all the more important in terms of future business opportunities, because many fast ferries operating on the busy South China routes are due for upgrades. I am convinced that, with this strong endorsement from Zhuhai High-Speed Passenger Ferry, more ferry operators in the region will consider switching to our more cost and energy efficient propulsion systems."

Designed by CoCo Yachts in the Netherlands, the vessels are now under construction at the AFAI Southern Shipyard. Each ferry will be driven by an MTU 16V 4000 M70 engine delivering 2240kW, which will give the vessels a top speed of 34 knots. With the designation CC288, the ferries are 41.5 m long and 10.0m wide, and are designed for the rapid transportation of up to 288 passengers in safety and in considerable comfort.

The catamaran design is to China Classification Society High Speed Passenger Ferry notation and the hull optimised for high speeds with good sea keeping. The first ferry is scheduled to be delivered in December this year and will serve routes in the Pearl Delta, between Zhuhai, Shekou and Hong Kong.