RTG Cranes Roll at Port of Indiana-Burns Harbor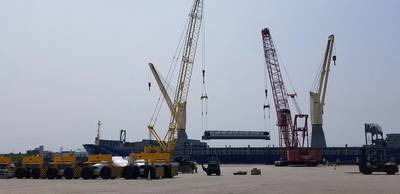 For the first time in its nearly 50-year history, Port of Indiana-Burns Harbor welcomed general cargo vessel HC Melina carrying a unique shipment of two, large rubber-tire gantry (RTG) cranes destined for the CSX Intermodal Terminals' facility in Chicago.

Once the 68-piece shipment is fully assembled, the RTG cranes will have a span of eight containers wide and with a hoisting height of one over four containers high. The high-performance equipment will replace two older units at the CSX Intermodal Terminals' Bedford Park facility, which handles domestic and international freight.
The port has become well-known internationally for "heavy lift" and "project cargo" because of its ocean access, proximity to the U.S. heartland, and its capability of handling large-dimensional cargo. Federal Marine Terminals (FMT), the general cargo stevedore at Port of Indiana-Burns Harbor, handles commodities including steel, breakbulk cargos, forest products and project cargo, such as wind turbine components and massive beer tanks. FMT's maximum lifting capacity for a two-crane lift is 199.6 metric tons, or 440,000 pounds, nearing the top of any port's capabilities in the U.S. Great Lakes or Canada.
The rigid and stable steel structure allow precise handling with smooth movements even at high speeds. The upgraded gantry equipment offers high availability, increased productivity, and will produce lower emissions with new diesel technology. The cranes load and offload containers from trains, then place on trucks for final delivery to a warehouse or distribution center. The cranes also stack shipping containers to optimize storage at the terminal.
The gantry cranes arrived from Liebherr Container Cranes based in Killarney, Ireland and were discharged from the HC Melina vessel by FMT's shore crane. The cargo was then loaded onto a truck for final delivery in Chicago. The gantry cranes will be assembled over the next two months and be in service by the end of August.