SA Economy Benefits From New Navy Vessels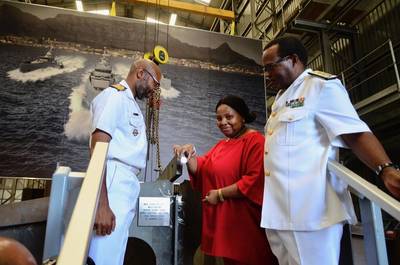 On Saturday,February 23, 2019, Damen Shipyards Cape Town (DSCT) hosted a keel laying ceremony, marking the start of construction on the first of three Multi-mission Inshore Patrol Vessels (MMIPVs) for the South African Navy.
These vessels will aid in protecting the country from threats such as trafficking, illegal fishing and piracy, as well as support job creation and enterprise development.
The keel laying ceremony is a maritime tradition that dates back to the times of wooden ships and is said to bring luck to the ship during construction and to the captain and crew during the vessel's later life. The tradition involves placing a newly minted coin under the keel (the primary structural backbone of the ship around which the hull is built) and building over it.
The coin laid at the DSCT event was a commemorative medal made in honor of the late President Nelson Mandela's 1993 Nobel Peace Prize win. The coin was placed under the keel by the Minister of Defense and Military Veterans, Nosiviwe Mapisa-Nqakula. The keel bar was then lowered on top of the coin and welded into the structure – a privilege that went to Nobelungu Tshangase from Velddrif on the West Coast who is one of the top performing apprentices at Damen's training school. The training school has since inception in 2010 educated 150 young people from previously disadvantaged communities and recently enrolled a new class of 10.
Addressing the event which was attended by several members of parliament, dignitaries, Armscor and South African Navy personnel, DSCT Director, Sam Montsi, said: "The event today signifies the start of the building of the first MMIPV. Over the years, our shipyard has undertaken many projects for local and international clients but none as significant as the MMIPV project. The MMIPV's will be built and delivered within the agreed specifications, timelines, and budgets.
"In addition, more than one million man-hours of work will be created during the construction of the MMIPVs. This project will sustain and/or create more than 1,000 direct and indirect jobs.
The Minister stated that the MMIPVs will be work horses of the South African Navy, reducing the load off the Navy's existing fleet of frigates.
The first vessel is due to be completed by mid-2021 and start serving the people of South Africa. The second and third are scheduled for delivery in 2022 and 2023, respectively.