"Saint John Paul II" Delivered to Virtu Ferries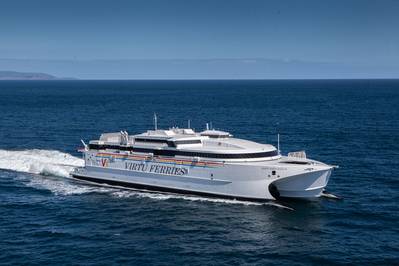 Incat delivered its latest large fast ferry, a 110-meter catamaran for Virtu Ferries of Malta dubbed Saint John Paul II.
Saint John Paul II is the 44th large commercial fast ferry delivered by Incat and the sixth in excess of 5,500gt in the past decade; a decade also shared with 19 other Incat newbuilds of smaller passenger ferries and support vessels.
"Using the latest computational fluid dynamics (CFD) and hydrodynamic free-running model test techniques, the well proven Incat Wave Piercing Catamaran hullform has been further developed for Mediterranean winter conditions," said Tim Burnell, CEO, Incat.
Marine Consulting at the Ocean Basin and Ship Tank in Gosport, UK – facilities normally associated with UK Ministry of Defence projects.
"The result is a completely new bow arrangement and increased tunnel height, ensuring Saint John Paul II is truly fit for purpose on year-round ferry operations on what is an exposed Mediterranean island route," said Burnell.
"As an island nation with a strong and growing economy it is imperative that Virtu Ferries' year-round lifeline passenger and freight services are reliable," said Francis Portelli, Chairman and Owner, Virtu Ferries.
"During the winter months we can experience very strong winds and high waves on our route. So we wanted a hull design developed to minimize fuel consumption and to increase passenger comfort and seakeeping performance, at the desired contract speed, in simulated sea conditions prevailing in the Malta Channel. This is in line with established green policies being recommended by the international maritime industry.
Saint John Paul II was completed under DNV GL classification society rules and she complies with IMO HSC Code 2000 rules, Malta flag statutory requirements and Italian port state requirements.
"For Virtu Ferries this new vessel provides a significant increase in capacity over their existing vessel operating on the Malta – Sicily route, offering 43% more truck capacity, 15% more passenger capacity and 7% more car capacity," said Burnell.
At 1,000 dwt, the vessel is the largest RoPax catamaran ever built for operation in the Mediterranean and is the second largest in the world. She has capacity for 900 passengers on two decks and additional outside seating on both upper and lower passenger levels. The full span of the vehicle deck is designed to carry 23 heavy commercial trailers, equivalent to 490 truck lane meters or 167 cars.
On contractual speed trials off the southern coast of Tasmania Saint John Paul II achieved speeds in excess of 38 knots running at 85 percent power and ballasted to 600 tonnes deadweight.

Principal particulars: Saint John Paul II
Incat Yard No:089
Designer: Revolution Design Pty Ltd
Builder: Incat Tasmania Pty Ltd
Class Society: DNV GL
Certification: DNV +1A1 HSLC R1 Car Ferry "B" EO
Length overall: 110.6 m
Length waterline: 101.9 m
Beam moulded: 28.2 m
Beam of Hulls: 5.4 m
Draft: 4.375 m
Speed: 38 knots at 85% MCR, 600 DWT
Capacities
Deadweight: 1000 tonnes.
Passengers: 900 passengers (and 24 crew = 924 persons)
Vehicles:490 truck lane meters at 3.5m wide and 4.6m clear height or up to 167 cars at 4.5m length x 2.4m wide.
Axle loads: 12 tonne (single axle single wheel) or 15 tonnes (single axle dual wheel)
Machinery
Main Engines: 4 x resiliently mounted 20V MTU 8000 M71L, each rated at 9100kW
at 100% MCR
Water Jets: 4 x Wartsila LJX 1500SR waterjets configured for steering and reverse.
Transmission: 4 x ZF gearboxes
Ride Control: A 'Naiad' active ride control system is fitted to maximize passenger comfort. This system combines active trim tabs aft and two hull mounted T-foils
Electrical
Generators: 4 x 300ekW MTU 8V2000 M51A generators.
Evacuation:4 x LifeRaft Systems Australia (LSA) Marine Evacuation Stations (MES). Two port, two starboard each MES capable of serving up to 300 persons. Eleven x 100 person lifefafts are fitted. 2 x SOLAS inflatable dinghies with 25hp motor & approved launch/recovery method.