Mammoet Salvages the Cabo de Hornos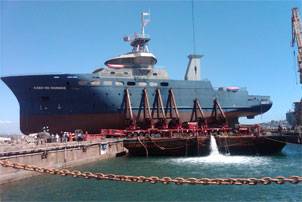 On January 29, 2011 Mammoet Salvage refloated the research vessel Cabo de Hornos safely and redelivered her back to her owners, The ASMAR Shipyard in Talcahuano, Chile. The vessel was being built at the ASMAR Shipyard located in Talcahuano Naval Base when on February 27 2010 one of the largest earth quakes ever recorded hit the central region of Chile. The movement of the earthquake caused an accidental premature launch and the vessel slid into the sea.
The Cabo de Hornos was planned to be launched on that February 27 in a formal ceremony in presence of the Chilean President. After the premature launch and several minutes drifting, the vessel was picked up by the Tsunami and washed back on to land on the opposite side of the shipyard.
On November 12, 2010, the salvage contract to refloat the Cabo de Hornos was awarded to Mammoet Salvage. Mammoet Salvage offered an unconventional salvage solution by proposing to drive the vessel on to a flattop deck barge with the Self Propelled Modular Trailers (SPMTs) from other operating companies in the
Mammoet Group
. The barge would be completely submerged in dry-dock and the vessel would be floated off.
Mammoet's in-house engineering department prepared the calculations for the transport and lifting method and designed the supports for the vessel. The total weight of the transport, including supports, would be 2,000 tons. A slope had to be built to drive the vessel to the graven dry-dock of the ASMAR Shipyard. Because the vessel was beached on soft sand, the whole area had to be excavated and one meter of soil was removed and hardened. After signing the contract, a team was sent out to commence the construction of the supports as well as the civil works for the road. The road to the dry-dock had to be prepared for a load of 30 tons per square meter.
In total, 31 containers with heavy transport equipment were mobilized from the various Mammoet facilities worldwide. A 300-foot barge was mobilized from Morgan City, Louisiana. On January 26, Cabo de Hornos was lifted with the SPMTs, after which she was carefully transported to the dry dock wall. On January 27, Mammoet Salvage drove the Cabo de Hornos safely onto the barge moored in the dry-dock. On January 29th, the Cabo de Hornos was floated off the barge and safely redelivered to the owners without additional damage.