Salvors Raise Fishing Vessel That Sank Near Santa Cruz Island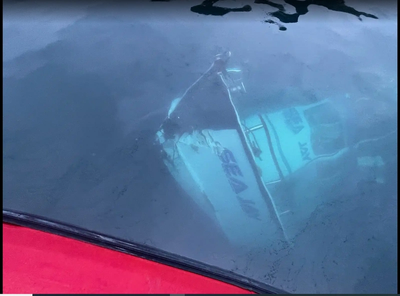 A salvage team has refloated a charter fishing vessel that sank near California's Santa Cruz Island.
Overseen by the U.S. Coast Guard and the California Office of Spill Prevention and Response (OSPR), the salvage operation included underwater assessment, refloating, stabilization and the safe transfer of the vessel to harbor. The operation was led by a seasoned salvage master and supported by a crew of four experienced salvage technicians and divers.
Two dedicated recovery vessels equipped with lift bags, dewatering equipment and custom rigging were brought in to handle the vessel recovery. An additional team of three technicians equipped with an oil spill trailer containing 2,000 feet of boom stands ready to respond to potential oil spills.
Divers first assessed the underwater condition of the Sea Jay before refloating the vessel using dedicated recovery vessels equipped with lift bags, dewatering equipment, and custom rigging. Next, the vessel was stabilized to prevent any further damage or sinking and relocated to a safe harbor where any products aboard the Sea Jay were offloaded.
Prior to salvage works, observers reportedly spotted a sheen near the fully submerged and anchored vessel. The vessel's diesel fuel tanks have a total capacity of 220 gallons.
"Our partnerships played a crucial role in the swift response and safe recovery and removal of the vessel. At no time during any phase of the operation were recoverable hydrocarbons present," said Capt. Ryan Manning, the Federal On-Scene Coordinator. "These actions have successfully mitigated any potential threat to public health and the environment."
The charter fishing boat Sea Jay sank on June 15 after striking a rock near Santa Cruz Island during a charter fishing trip. The Coast Guard said all 14 people on board successfully abandoned the vessel and were rescued.
The cause of the incident is under investigation.