Samsung's Ammonia-fueled Tanker Design Gets LR AIP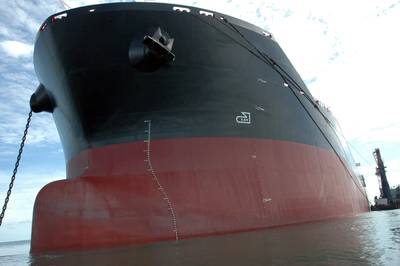 An ammonia-fueled tanker design developed by South Korean shipbuilder Samsung Heavy Industries (SHI) has received approval in principle (AIP) from classification society Lloyd's Register (LR).
The project to develop the novel, emissions-slashing aframax tanker was announced in January as maritime stakeholders consider cleaner-burning ammonia and other zero-carbon options to meet the International Maritime Organization's (IMO) target to halve shipping's greenhouse gas (GHG) emissions from 2008 levels by 2050.
Together, SHI and its partners—including Malaysian shipping company MISC Berhad and engine manufacturer MAN Energy Solutions—have been able to progress the fuel gas supply system and detailed ship design for the ammonia-fueled tanker. With the LR AIP in hand, the shipbuilder said it aims to commercialize its exclusive eco-friendly tanker and fuel supply system by 2024.
Jong-Hyun Youn, SHI EVP and head of design, said, "The ammonia fuel design project led by SHI brings all relevant stakeholders spanning from the fuel supplier to operator, and it will result in a commercial outcome."
LR Group CEO designate and Marine and Offshore Director Nick Brown said, "LR is working with leading industry partners to make deep-sea zero-carbon vessels a reality within this decade. Shipping needs action not words to deliver on the IMO's 2050 GHG ambitions, and this challenge calls for collective action and industry collaboration."
Ammonia, as just one of the pathways toward zero-carbon emitting vessels, is easily sourced, and a 2019 study by Dutch naval architecture firm C-Job found ammonia to be a viable and promising option for a clean and sustainable fuel. In its 2020 Energy Prediction report, the International Energy Agency forecasts that the use ammonia and hydrogen as vessel fuels will expand and will account for 60% of marine fuels by 2060.
Last year, LR granted AIP to Dalian Shipbuilding Industry Co. (DSIC) and MAN Energy Solutions for an ammonia-fueled 23,000 TEU ultra-large containership (ULCS) concept design.
Japanese shipping line NYK Line and class society ClassNK are also developing an ammonia-fueled gas carrier, and class society ABS is working with MAN Energy Solutions and the Shanghai Merchant Ship Design & Research Institute (SDARI) to develop an ammonia-fueled 2,700 TEU feeder vessel.
In June, Wärtsilä, Norway's Knutsen OAS Shipping AS and Spain-based Repsol commenced long-term, full-scale, testing of ammonia as a fuel in a marine four-stroke combustion engine at the Sustainable Energy Catapult Center's test facility in Stord, Norway.
---