Saudi Military Industries Signs Warships JV with Navantia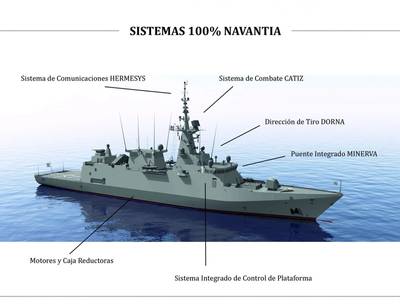 State-owned Saudi Arabian Military Industries (SAMI) signed an agreement with Spain's Navantia to set up a joint venture in the kingdom to build five warships, the state news agency SPA reported on Thursday.
The deal is part of a wider framework agreed in April by Spain and Saudi Arabia for Spanish state-owned shipbuilder Navantia to supply warships to the Gulf Arab state under a deal estimated to be worth around 1.8 billion euros ($2.2 billion).
SPA said the agreement between SAMI and Navantia was for the design and construction of five Avante 2200 Corvettes under a programme that would start this autumn, with the last unit due to be delivered by 2022. It gave no value for the deal.
The agreement with Navantia will generate 6,000 jobs over the five years, the statement said, including 1,100 direct jobs.
SAMI said the joint venture would "localize more than 60 percent of ships combat systems works", including installation and integration.
Saudi Arabia's top sovereign wealth fund, the Public Investment Fund (PIF), launched SAMI last year as part of a government plan to diversify the economy, reduce reliance on oil export revenues and create jobs.
SAMI aims to contribute more than 14 billion riyals ($3.7 billion) to the country's gross domestic product by 2030, according to SPA.
(Reporting By Aziz El Yaakoubi)