Hapag-Lloyd Expands Feeder Network in Scandinavia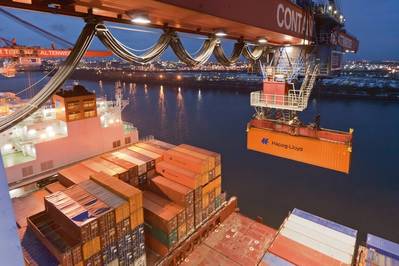 Baltic Express Service (BAX) to include Oslo / Two weekly departures from Gothenburg and Helsingborg in SDX and GTE / Connection via Hamburg and Bremerhaven to Hapag-Lloyd's global service network
From the beginning of June, Hapag-Lloyd will be integrating the Port of Oslo into its Baltic Express Service (BAX). The BAX will then link a total of six ports in
Estonia
,
Finland
, Lithuania, Norway, Poland and Russia with the hubs in Hamburg and Bremerhaven, from where it will be connected to Hapag-Lloyd's global service network. The first ship is scheduled to depart from Oslo on June 4. The new port rotation of the BAX service is as follows: Hamburg – Bremerhaven – Oslo – Muuga/Tallinn – Saint Petersburg – Kotka – Klaipėda – Gdynia – Hamburg.
In addition, Hapag-Lloyd will offer its customers with the services Sweden Denmark Express (SDX) and Gothenburg Express (GTE) two departures a week respectively, from Gothenburg and Helsingborg. The first additional SDX departure from Gothenburg is scheduled for June 9. With this move, Hapag-Lloyd is significantly improving connections to the important market of Sweden. The port rotation for the SDX service will then be as follows: Gothenburg – Aarhus – Bremerhaven – Hamburg – Helsingborg – Gothenburg. The port rotation of the GTE service remains unchanged: Bremerhaven – Hamburg – Copenhagen – Helsingborg – Gothenburg – Bremerhaven.
Hapag-Lloyd has a total of five own
feeder services
in the Baltic region/Scandinavia, which are connected to the global service network via the hubs of Hamburg and Bremerhaven.