Port of Kiel welcomes "Stena Scandinavica"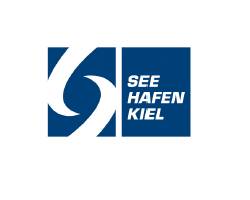 Latest ship completes 'generation' switch on Kiel-Gothenburg Line

Kiel, April 20th, 2011: today's first call by "Stena Scandinavica" at Kiel's Schwedenkai Terminal rounds off Stena Line's new ship generation switch on the Kiel-Gothenburg ferry route. During a reception on board, Kiel Port head Dr Dirk Claus presented the traditional first-call plaque to Captain Jan Sjöström. "We are delighted that as of today the Baltic's longest and most modern ferries are sailing from Kiel and that all the transport capacity they can offer is now available", said Dirk Claus, who is the Managing Director of the Port of Kiel (SEEHAFEN KIEL GmbH & Co. KG.).

The two sisters ships "Stena Germanica" and "Stena Scandinavica" are, at 240 m in length, the world's longest RoPax ferries and, with a capacity of 4,200 lane metres apiece, are also the biggest ever to have berthed in Kiel. Stena Line has set new standards with these new combi-ferries. Dirk Claus said "we can already say that the introduction of the new ferries, particularly as far as freight is concerned, has been a complete success and well exceeded expectations, even as early as the first half year of operation".

To prepare for Stena Line's new generation of ships, 30.8 million Euros were invested at the Schwedenkai Terminal in expanding operational areas and in the building of a modern terminal building. The final changes to the site have been made over the past few months and the Schwedenkai is now one of the most efficient terminal facilities in the Baltic for the handling of big RoPax ships.

Stena Line has linked Kiel with Gothenburg since 1967 and during this time 22.7 million passengers, 34.3 million private cars, 1.2 million trucks and 14.7 million tons of cargo have been transported.

The SEEHAFEN KIEL operates Kiel's commercial port on behalf of the Schleswig-Holstein state capital of Kiel, of which it is a 100% subsidiary. Every year 5.8 million tons of cargo are handled at terminal facilities in the Stadthafen and Ostuferhafen while two million passengers board or leave cruise ships in the port. The new 12-storey terminal building at the Schwedenkai has in the meantime grown into a landmark for the fiord city. It also houses the administrative offices of the SEEHAFEN KIEL as well as the German offices of Stena Line. A brand new restaurant, 'Langengrad' (longitude), opens at Schwedenkai mid May.

Source: Port of Kiel