Scania Powers New Twin City Liner Ferry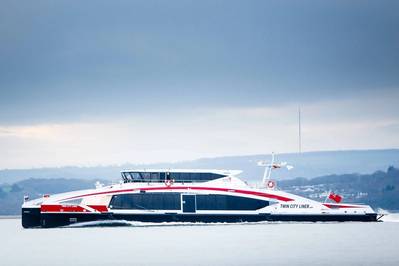 Twin City Liner is a 39m low wash, high-speed catamaran ferry for operation by Twin City Liner on the Danube River between Vienna and Bratislava. The vessel was built by Wight Shipyard, with local support from Incat Crowther Europe.

Operating on the Danube takes many interesting design specifications, and to this end the ferry features a low draft of 0.8m, minimal wake / wash, low air draft and a hull form designed for restricted waters where high current and debris are encountered. A retractable mast facilitates navigation and radar functions whilst fitting under low bridges. A specific anchoring system has been provided which may be used in very high current conditions. The anchors are stowed flush in custom pockets to prevent against external contact. Special consideration was made to the design of mooring and fendering systems to allow ease of docking in the narrow canals and high current of the Danube.
The CFD-optimized hull is designed to be highly efficient, giving the vessel a top speed of 40 knots and a reliable service speed of 32 knots at less than 70% MCR. The hull performs at level trim, affording maximum clearance under the keel for shallow areas of the river.
Passengers board Twin City Liner via midship doors port and starboard and enter the main cabin with large windows, capable of seating up to 184 passengers. A kiosk providing a range of snacks and refreshments is provided aft on the starboard side. On the port side toilets are provided, one of which is for disabled customers.
The vessel is powered by quad Scania DI16 main engines, each producing 809kW, driving Rolls Royce S40-3 water jets. The quad propulsion train was chosen for improved redundancy and reduced maintenance, by allowing the engines to run at low MCR. Large hatches over the main engines and gearboxes enhance maintenance access.
39 m Ferry Main Particulars
Length, o.a.130' 3" / 39.7m
Length Waterline 125' / 38.1m
Beam o.a. 34' 10" / 10.6m
Draft (hull) 2' 8" / 0.8m
Depth 6' 5" / 1.95m
Construction Marine grade aluminium
Fuel Oil 2 325 gallons / 8,800 liters
Fresh Water 159 gallons / 600 liters
Sullage 396 gallons / 1 500 liters
Passengers 248
Crew 4
Speed (Service) 32 knots
Speed (Max) 40 knots
Main Engines 4 x Scania DI16 076M
Power 4 x 1085hp / 809kW @ 2300rpm
Propulsion 4 x Rolls Royce S40-3 Waterjets
Generators 2 x John Deere 4045 85hp
Flag Austria
Class DNV-GL +1A HSLC R6 Passenger craft E0 EU Regulation EU Directive 2006/87/EC