OTAL Adds Hamburg to West Africa Schedule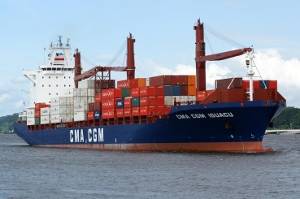 On 26 November 2009, the container ship CMA CGM Iguacu called at the Port of Hamburg as part of the expanded sailing schedule for the Nigeria Express liner service operated by the OT Africa Line (OTAL). Hamburg is included for the first time in this liner service, which links the ports of Dakar, Lagos-Apapa, Lagos-Tincan and Abidjan with the European continent. The CMA CGM Iguacu is scheduled to arrive in Lagos on 18 December 2009. The inclusion of the northern European continent only occurred in July this year.

The CMA CGM Iguacu was built by the HDW shipyard in Kiel in 2006. The ship is 695.5 ft long, 97.7 ft wide and has a maximum draught of 37.4 ft. It is one of a total fleet of six container ships with an average capacity of 2,500 TEU operating in the scheduled container line service of OTAL linking northern Europe with the west coast of Africa and handled at the HHLA Container Terminal Burchardkai (CTB) on a weekly basis.

During the year 2008, cargo flows in the container traffic between Hamburg and Africa increased to more than 185,000 TEU, up six per cent on the previous year. Growth in the volume of trade with the west coast of Africa was particularly strong at 17 per cent, to reach a total of 49,000 TEU.

Imports from West Africa via the Port of Hamburg are mainly raw cocoa, timber and timber products, green coffee, rubber and cotton. The principal export goods passing through Hamburg are vehicles, plant and machinery, electrical products, textiles and chemical products.