Scholarship Fund Launched by US Coast Guard Foundation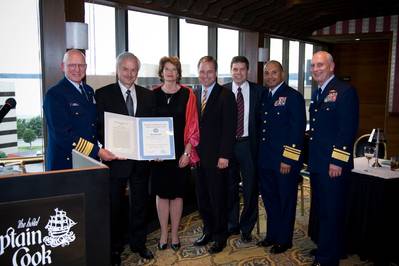 The non-profit Coast Guard Foundation establishes the Walter Joseph Hickel, Jr. Scholarship Fund at its recent Alaska Awards dinner.

"I am very honored to announce the establishment of the Walter Joseph Hickel, Jr. Scholarship Fund," said Robert J. Flynn, chairman, Coast Guard Foundation. "This fund will provide scholarship assistance for Coast Guard families stationed in Alaska. It pays tribute and will serve as a lasting legacy to the long and dedicated service of Wally Hickel's support of the Coast Guard Foundation, as well as Coast Guard personnel and their families."

The funds raised through the dinner helped build the Coast Guard Foundation Family Recreation Center in Kodiak, provided college scholarships for the children of enlisted personnel, provided education grants for enlisted Coast Guard members stationed in Alaska and provided many Shipmate Fund grants to units and cutters throughout the state.

The Scholarship Fund honors long-time Coast Guard Foundation director and Alaskan stalwart, Walter "Wally" Hickel, Jr. who joined the Coast Guard Foundation Board of Directors in 1994. In the ensuing years, he has helped raise nearly $2 million and contributed countless hours of volunteer time and personal resources to make the Foundation's Alaska Awards dinner a premiere event.

At the Foundation's 2010 Alaska Awards Dinner, Wally Hickel, Jr. received the Distinguished Public Service Award and was recognized for his efforts raising funds in Alaska for the Coast Guard Foundation. When awarding Hickel, Jr. his Distinguished Public Service Award, Coast Guard Commandant Adm. Robert J. Papp declared: "Simply put, there would be no Alaska Coast Guard Foundation Awards Dinner without Wally Hickel, Jr.'s leadership and inspiration.