Crowley Gives Scholarships to Two Student Employees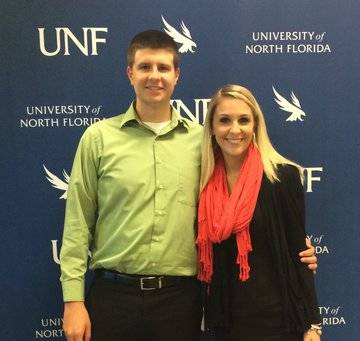 Crowley Maritime Corporation recently awarded Thomas B. Crowley Sr. Memorial Scholarships to two University of North Florida (UNF) students who are also currently part-time employees with the company. UNF seniors Olivia Musselwhite and Matthew Petrone each received $2,500 towards their continued education.

Leonora Bojko-Sosa and Kathy Lonetto, human resources representatives for Crowley, recognized the two at an annual reception on November 7 at the University Center on the UNF campus in Jacksonville. Musselwhite, who will graduate in December, currently works in Crowley's logistics group, specifically with government services, while Petrone, who graduates in spring 2015, works in the liner services equipment group.

Crowley has provided scholarship aid to UNF students since 1998. To qualify, students must major in transportation or logistics, obtain a predetermined grade point average (GPA) and possesses leadership skills identified by the college and by Crowley.

The recipients are chosen each year by UNF in June but aren't formally recognized until November. Crowley also extends formal internships when possible as an additional benefit to the scholarship recipients.

Since 1984, Crowley has provided more than $3 million dollars in scholarship funding for more than 1,000 students at select institutions of higher learning from Alaska to Central America. The company has also donated more than $2 million over the years to support other educational programs.

In 1994, Chairman and CEO Tom Crowley Jr., formally established the Thomas B. Crowley Sr. Memorial Scholarship Program in honor of his father who led the company to extraordinary heights before passing away in 1994.