Seafarers Hit the High Notes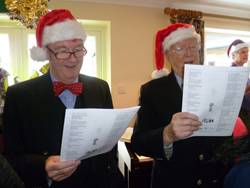 The Royal Alfred Seafarers' Society's Christmas Carol Service Helps Residents Remember.
Dementia residents at The Royal Alfred Seafarers' Society will be hitting the high notes this Christmas at a carol service which marks the culmination of an innovative programme of 'musical therapy' introduced this year to help their condition. The care home, which provides dedicated nursing and respite care to former seafarers and non-seafarers, introduced singing and music sessions to help relax residents' minds and take the fear out of the condition which affects 750,000 in the UK.
Research has found that music can also help to unlock memories and connect with loved ones, reducing feelings of isolation and improving confidence and self-image.
Anne Kasey, Home Manager at the Royal Alfred Seafarers' Society, explains: "The positive effects of music on dementia sufferers is well documented, with various studies finding that music therapy leads to improvements in cognitive functioning, communication and mood. We have observed a definite uplift in the mood and confidence of our residents after the singing and music sessions, which suggests it is having a positive effect on their wellbeing."

"The part of the brain that manages music is not affected as severely by dementia, which means patients can remember songs and music very clearly, therefore boosting their confidence," added Commander Brian. The Christmas carol service, held on 21st December at the home will be a chance for residents to showcase their singing talents to family and friends and celebrate the festive season.

The Royal Alfred Seafarers' Society's new dementia care unit was opened earlier this year by HRH The Princess Royal and provides dedicated support to sufferers and their partners. Recent research has shown the number of people living with dementia is increasing, however a staggering 60 percent of sufferers are struggling in the dark without a formal diagnosis.
Commander Brian Boxall-Hunt OBE, Chief Executive of the Society, said: "Our objective for the new annexe is to use both expert staff and a specially designed environment to deliver the very best care for residents. By linking this to reminders of their former life makes this as comfortable and fulfilling as possible. With more and more people living with dementia every year it is even more important that research into alternative therapies such as music and singing continues."
The Royal Alfred Seafarers' Society is a registered charity and was established in 1865. It is incorporated under the Royal Charter, with HRH the Princess Royal as its patron. It provides care predominately to retired seafarers from across the UK.
Under the Royal Charter, 'seafarers' include Merchant Navy, Royal Navy, fishermen and port workers, as well as their widows, widowers or dependants. The Society also welcomes residents of non-seafaring backgrounds when able to do so.
For more information on Weston Acres or Belvedere House please contact the home on 01737 360106, or Mrs Margaret Brazier the Executive Assistant on 01737 353763.