SeaSoar Towed Vehicle for UTM in Spain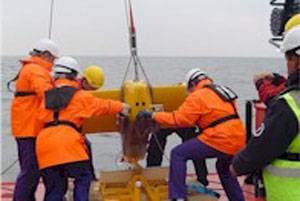 Chelsea Technologies Group has recently sold a SeaSoar Towed Undulating System to the UTM CSIC in Spain. UTM required a towed vehicle with capability of undulating down to depths of 500 metres. The SeaSoar was chosen for this reasons, as well as for its ability to provide a flexible payload allowing UTM to mount a range of instrumentation.

The SeaSoar was fitted with a Seabird Electronics SBE 911 CTD, with dual C and T sensors fitted each side of the SeaSoar. Future planned expansion includes the integration of a Brooke Ocean Technologies LOPC, together with Turbidity, Chlorophyll and PAR Sensors.

UTM has successfully been operating another of the Chelsea towed vehicles – the Nu-Shuttle System - for over 10 years and this is regularly deployed on their vessels O/V García del Cid and R/V Hespérides. The Nu-Shuttle System is fitted with faired cable, which provides undulations from surface to 150 metres.

The SeaSoar was procured for initial installation on the R/V Sarmiento De Gamboa, launched in January 2006, which is mainly based for operations within the Atlantic. Chelsea has recently completed SeaSoar Training on board this vessel in Vigo, Spain. Having completed the training exercise, the R/V Sarmiento De Gamboa sailed onto Barcelona in preparation for their next cruise to the Gulf of Lyon, where the SeaSoar System will be used for its first mission.

Chelsea Technologies Group is participating in the Ocean Business Technology Training event (31 March – 2 April 09) and will be holding a free 2-hour demonstration of the Nu-Shuttle towed vehicle on 31 March on board RV Callista. To reserve a place please visit www.chelsea.co.uk/OceanBusiness2009.htm or contact Ellen Keegan on +44(0)20 8481 9019, ekeegan@chelsea.co.uk.