Seaspan Shipyards Awards JSS Contract to INDAL Technologies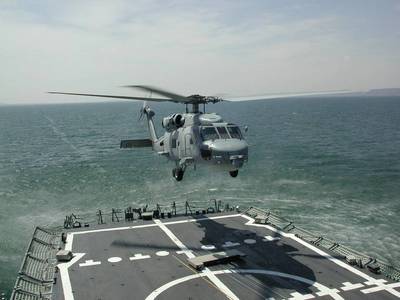 Canadian shipbuilder Seaspan Shipyards has awarded Ontario-based INDAL Technologies Inc. a contract valued at almost $20M for work on Canada's new Joint Support Ships (JSS).

INDAL represents one of more than 60 Ontario suppliers to date that Seaspan is working with to meet its commitments under the National Shipbuilding Strategy (NSS), said a press release.

INDAL is providing its Aircraft Ship Integrated Securing & Traversing (ASIST) System for JSS. The ASIST System is a state-of-the-art integrated helicopter handling system for surface combatants.

The System provides the functionality necessary to support helicopter handling, including deck securing on touchdown, on-deck manoeuvring and traversing to/from the hangar space, and helicopter launch. INDAL will also be supplying all the installation support and training, as well as the required maintenance and logistics documentation.

A distinct capability of this System is its ability to straighten and align the helicopter remotely from the ASIST Control Console using combined operations of the on-deck Rapid Securing Device (RSD) and Traverse Winch sub-system. Straightening and alignment is achieved with no requirement for external cables attached to the helicopter.

Various configurations of INDAL's ASIST systems are operating successfully with navies from around the world including Chile, Turkey and Singapore. ASIST has also been selected by the U.S. Navy as an integral capability within its DDG-1000 "Zumwalt" destroyer program and by the Royal Australian Navy for its Air Warfare Destroyer and SEA 5000 Programs.

"This contract is a prime example of how the National Shipbuilding Strategy is helping drive technological innovation in Canada, while also building a strong, sustainable marine sector. INDAL Technologies Inc.'s homegrown, state-of-the-art technology will help equip our Royal Canadian Navy's future supply ships with the tools needed so that our women and men in uniform can carry out their important work," said Carla Qualtrough, Minister of Public Services and Procurement and Accessibility.

"Thanks to its work under the NSS, Seaspan has issued over $690M in committed contracts with approximately 540 Canadian companies. By building ships for the Canadian Coast Guard (CCG) and Royal Canadian Navy (RCN) in Canada, Seaspan is helping to re-establish a Canadian marine industry," the release said.

As the company continues to make progress on its NSS commitments, this supply chain is expected to grow as more Canadian companies realize new opportunities with a revitalized shipbuilding industry. It is through its work on the NSS that Seaspan is directly and indirectly helping to employ thousands of Canadians from coast to coast to coast.