Seattle Cancels Two Cruise Calls Amid Coronavirs Outbreak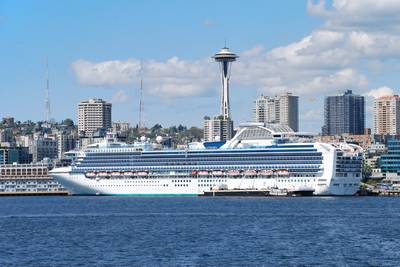 The Port of Seattle announced Wednesday that it has canceled two cruise ship calls to help curb the spread of the novel coronoavirus.
"This region is in a public health emergency and we will cancel the first two sailings of our cruise season," said Port of Seattle Commission President Peter Steinbrueck. "The health, safety, and wellbeing of our residents is our top priority."
The canceled one-day stops by Grand Princess and Celebrity Eclipse on April 1 and 5 respectively were to be the first sailings of Seattle's 2020 cruise season.
The Grand Princess is currently docked in Oakland where passengers will disembark for shoreside quarantine after 21 people on board tested positive for COVID-19.
Seattle, which is among U.S. cities hit hardest by the coronavius outbreak, relies on cruise travel as a major economic contributor. Its cruise season generally runs from April through mid October, generating nearly $900 million in business activity and supporting 5,500 jobs.
The Port of Seattle, which currently has seven other cruise ship sailings scheduled to take place in the month of April, the first of which is planned for April 15, said it hasn't reached a decision on other future sailings as it continues to work with first responders, cruise lines and local leaders, and consider current public health guidance, as well as enhanced actions that the cruise lines are undertaking to determine the best path forward.
On Wednesday, Seattle Mayor Jenny A. Durkan called for additional action to help slow the virus' spread. "Public health officials and scientists have come to the consensus that COVID-19 is more widespread in our community than current testing would indicate. If we don't take additional mitigation steps now, the number of cases could quickly rise into the tens of thousands."
Washington Governor Jay Inslee announced gatherings of more than 250 people have been prohibited to minimize coronavirus exposure, particularly in counties hit hardest by the virus.
King County, where Seattle is located, has had 24 deaths and 267 people with confirmed cases of COVID-19 as of Wednesday morning.