Second Fast Ferry Delivered in Massachusetts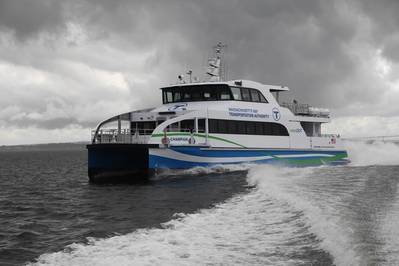 The second of two new high-speed catamarans from Gladding-Hearn Shipbuilding has been delivered to the Massachusetts Bay Transit Authority (MBTA).
Funded by a grant from the Federal Transit Authority (FTA), M/V Glory will pair with her sister-ship to provide year-round commuter service in Boston Harbor, replacing the high-speed ferries built by the Somerset, Mass. shipyard in 1997.
Designed by Incat Crowther, the all-aluminum ferry is 88.7 feet LOA, 28.8 feet abeam, and draws approximately four feet loaded. The 150-passenger vessel is powered by twin Caterpillar C-32, 12-cylinder, EPA-rated Tier 3 diesel engines, each delivering 1,450 Bhp at 2,100 rpm. The engines turn a pair of Hamilton HM 571 water-jets through ZF 3050 gearboxes. The ferry's top speed is 29 knots with a fully-loaded deadweight of more than 19 metric tons, said shipyard officials. The two engine rooms each house a RA Mitchell 47kW generator.
Compliant with the U.S. Access Board's accessibility guidelines for passenger vessels (PVAG), the boat is designed for boarding passengers from the bow at integrated MBTA facilities. Entrance to the main cabin is through the bow doors forward or the port and starboard side doors.
The main cabin seats 110 passengers and includes a full-service concession, video entertainment system, two heads and HVAC. A ticket counter and luggage storage area are forward. Interior sound levels are about 68 dBA. The open foredeck has room for 10 bicycles.
The open second deck, aft of the wheelhouse seats 40 passengers. A fixed canopy covers half of the open deck. Freedman seats have been installed in the cabin and custom fabricated Gladding-Hearn seats on the upper deck.
Throughout the vessel is an automated passenger information system that integrates audible, textual messages, satellite television on 5 LCD monitors, three exterior destination signs and an audio induction loop system for the hearing impaired.