London Gateway Ups Security Measures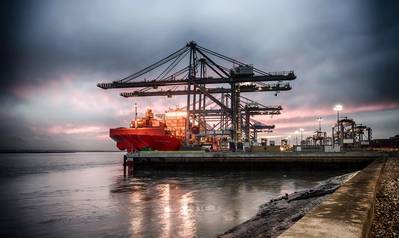 Expanded use of converged security and information management platform will support physical and IT security program at DP World London Gateway.
London Gateway, one of the U.K.'s major ports owned and operated by DP World, has implemented converged security and information management (CSIM) software port-wide to increase security and provide overall situational awareness capability.
Situated on the north bank of the River Thames, the deep-sea container port is located next to
Europe
's largest logistics park, providing shipping access to key U.K. consumer markets. The port is a 2 square mile area surrounded by an 11 kilometer fence line, creating a massive infrastructure to be monitored and managed. The site encounters a vast and varied range of security activities, including routinely intercepting stolen vehicles, narcotics and illegal immigrants, and works closely with local and London MET police, the U.K. highways agency and the Ministry of Defense.
"DP World London Gateway is a massive undertaking, requiring the highest level of precision and enhanced situational awareness that Vidsys can provide with true situation management," said James I. Chong, CEO of security focused software provider Vidsys.
A Vidsys end-customer since 2016, DP World London Gateway has partnered with the software provider on recent expansion projects, and has selected the CSIM platform due to its open architecture and agility for future growth and innovation, while being able to manage all sensors and systems from one unified view.
"We chose Vidsys due to its constantly forward-thinking approach to innovation and security," explained Colin Hitchcock, Harbour Master & Head of ISPS security and Royal Navy veteran. "Through the Vidsys platform we are able to extend our ability to monitor the port, our assets, and increase the efficiency and effectiveness of our security program."
Vidsys' highly automated technology helps the port run all data through a 24/7 security control room, with a separate control room reserved for elevated security alerts. A particular feature of the CSIM platform that the DP World London Gateway Harbor Master uses frequently includes Vidsys' smart reporting capability. Vidsys CSIM helps
London Gateway integrate
access control, CCTV and perimeter intrusion detection (PIDS), as well as dire detection, building management and custom reporting capabilities.