Security at Sea on Agenda at Upcoming SMM Hamburg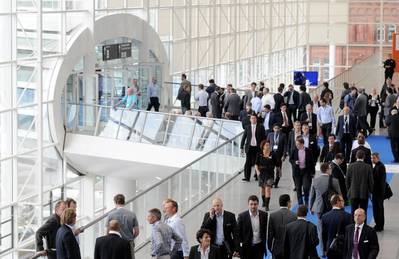 At the forthcoming SMM maritime trade fair in Hamburg in September 2014 experts will present new security concepts for sea routes.

Background
Security at sea is improving: In recent months, pirate attacks on commercial ships have been repelled successfully with increasing frequency. One of the reasons is the EU-led Operation Atalanta providing military protection in the Gulf of Aden.
Since 1, February 2009 commercial ships have been able to use a Transit Corridor established there. International naval units escort containerships or gas tankers through this corridor. Operation Atalanta thus ensures secure passage of civilian ships along the trade routes, preventing hijacking for ransom, and enforcing international law.
What has also helped fend off pirates are the security measures taken by shipping companies. In particular, private security teams have been most helpful. This strategy has worked out well: "To date pirates have never succeeded in boarding or hijacking a ship that had an armed security team on board," says Michael Behrendt, President of VDR, the German ship owners' association. But the problem is far from solved. A new piracy-prone sea region has emerged off the western African coast. The demand for security measures and techniques continues to be strong.

The SMM Conference
Piracy will also be high on the agenda of MS&D, the international conference on maritime security and defence, scheduled for 10 September as part of the SMM Security and Defence theme day. This year the MS&D conference will be held for the fifth time. "We will again study new options for protecting sea routes and ports this year. The strong interest proves that the MS&D conference has firmly established itself as a meeting place and a source of inspiration for the industry," says Bernd Aufderheide, President and CEO of Hamburg Messe und Congress GmbH (HMC).
As in the years before HMC is organising this conference jointly with its partner, DVV/Griephan, and Deutsches Maritimes Institut (DMI). There will be two panel discussions. The first one is titled, "Maritime Challenges of Globalisation", while the second one will focus on "Future Maritime Capabilities". The keynote speaker will be Sarah Kenny, Managing Director, QinetiQ Maritime, who will discuss "The future development of maritime security and defence".

Further information is at: www.smm-hamburg.com