China-built Semi-submersible on Sea Trials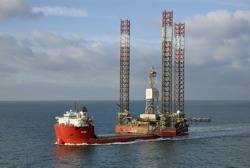 Fairstar Heavy Transport N.V. announces sea trials for semi-submersible FORTE & the launching of sister ship FINESSE
Fairstar Heavy Transport N.V. announce their new build 50,000DWT semi-submersible vessel FORTE has left the quayside and begun a series of tests and sea trials off the coast of China. The sea trials will be under the supervision of Det Norske Veritas (DNV), the vessel's Classification Society.
Willem Out, COO of Fairstar, commented from the Bridge of the FORTE "I have been in the shipping business for almost 40 years, out of which I have been at sea for over twenty years on many different types of vessels. This is one of my proudest moments at Fairstar and one of the most satisfying for me personally. Our crew on board the FORTE are all full time Fairstar professionals; a combination of veterans from the FJORD and FJELL as well as a number of newly hired Dutch mariners and engineers."
He said that Guangzhou Shipyard International (GSI) had done an excellent job. They have maintained a disciplined schedule and the company was totally satisfied with the design of the ship and the quality of her construction.
The FORTE will be tested to her limits over the next two weeks. After she returns to port, we will begin to prepare for the formal naming ceremony on May 23.
In July, FORTE will be on contract for the next two years in the Gorgon LNG Project. She is scheduled to transport some of the biggest and most valuable modules from Korea to Barrow Island, Australia over the course of the time charter. The FORTE will be delivered on time and on budget.
The FORTE's sister ship FINESSE has already been launched from the dry-dock in Qidong and is scheduled for delivery to Fairstar in late October 2012.