ABB's OCTOPUS Helps Keep Heavyweight Semi-Submersibles Safe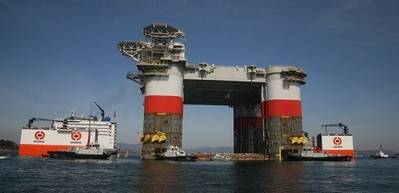 80% of the world's semi-submersible heavy-lift vessels are equipped with motion monitoring and decision support systems says ABB, including the 'Dockwise Vanguard' recently contracted to lift and carry off the 'Costa Concordia'.
Offshore oil and gas platforms and floating production centers are getting bigger and heavier, and the ships that transport them across the oceans of the world are getting bigger and heavier as well. Recently, the world's largest semisubmersible heavy-lift vessel, Dockwise Vanguard, completed its maiden voyage, transporting the biggest semisubmersible oil platform hull ever built - the Jack St. Malo, which is owned by energy company Chevron. In this voyage of the giants the 55,000 ton platform weighed half as much as the ship carrying it. It towered above the Vanguard's bridge and extended far over the ship's beam, just seven meters above sea level.
OCTOPUS Advisory Suite is a comprehensive motion monitoring, forecasting and decision-support toolkit that improves the availability and safety of sea-going vessels during weather-sensitive operations. "With the OCTOPUS motion monitoring and decision support system, the master and officers have a powerful tool to plan and execute the transport of heavy cargo." Jan de Jonge, Senior Marine Engineer, Dockwise.
This software suite provides practical information for making correct decisions at sea by continuously monitoring and measuring the vessel's motion, status and location, fuel use and performance, hydrodynamics and positioning. It combines wave measurements, weather forecasts and navigation data like speed, course and voyage plan, with the ship's characteristics, loading conditions and motion sensor measurements.
All this data is made available in real time to the bridge, the Dockwise head office, and to the customer (so that they too can follow the progress of their valuable asset). It enables the ship's officers to choose the safest and calmest route and the optimal speed at which to travel. This maximizes the vessel's time in the water and minimizes its journey time.

OCTOPUS is developed by Amarcon, a fully owned subsidiary of ABB and the industry leader in vessel motion prediction solutions. OCTOPUS is part of ABB's Vessel Information and Control (VICO) marine portfolio of advisory and fleet management reporting solutions; integrated automation, vessel management and control systems; and marine instrumentation and sensors.