Sener Completes Basic Engineering for Two Ice-Class Vessels with Carbon Capture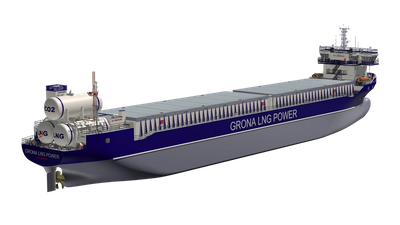 Spain-based Sener has developed the conceptual and basic engineering of two new ice-class vessels equipped with carbon capture systems for the German company Grona Shipping.
The two general cargo vessels are 6,000 and 9,100 tons respectively.
Both vessels have an LNG propulsion system and incorporate CO2 capture systems, which can be located on top of the LNG tanks or as structural tanks between the two cargo holds. The design conceived by Sener contemplates optimized lines that will help to reduce the towing resistance of the vessels, improving their behavior during navigation.
Grona Shipping is a company with activity in the North Sea and the Baltic Sea, among others, where these vessels would enter into operation.
Roberto Fernández, Director of Marine at Sener, says: "Decarbonizing the naval sector is an important objective not only for this industry, but for the entire economy. This decarbonization can be a lever for growth and innovation, proposing challenges that, solved through technology, take the sector to a new level. We are pleased to accompany Grona Shipping on this path towards reducing emissions from its fleet."