Sheringham Shoal Wind Farm Guard Vessel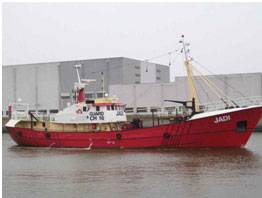 A guard vessel is now in operation on the Sheringham Shoal Offshore Wind Farm to ensure the safety of marine traffic around the foundation installation sites and along the export cable corridor. The 118-ft vessel, Jadi, has been contracted from UK-based marine solutions company, Offshore Marine Management. Her key role is to assist the heavy-lift vessel, Svanen, which is now installing the monopiles and transition pieces, by alerting other vessels such as fishing and sailing boats, of the location of its eight anchor buoys and ensuring they stay clear of the construction area.

Jadi will also assist the export cable laying vessel Stetmat Spirit when the export cable laying operation begins in late August by ensuring the path is clear for the cable laying operations. The export cable installation will begin at Weybourne Hope, just west of the coastal town of Sheringham, and continue for approximately six weeks.

The vessel is now in operation at the wind farm site, located 17-22 kilometres off the coast of North Norfolk, and will continue operations until at least March 2011, with an option to extend.

Project Director Rune Rønvik said that the guard vessel would play an important marine safety role throughout the export cable and foundation installation period.

The Sheringham Shoal Offshore Wind Farm is owned equally by Statoil and Statkraft through the joint venture company Scira Offshore Energy Limited. Statoil is the operator for the project during the development phase. Scira will be the operator of the wind farm.