SHI Receives Type Approval for Big Data Collection System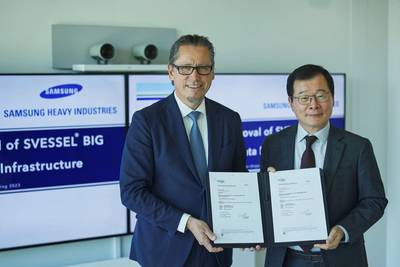 Samsung Heavy Industries (SHI) has become the world's first shipyard to receive DNV's D-INF(S) type approval for its SVESSEL BIG data collection system, a core technology for autonomous shipping.
SVESSEL BIG is set to become a crucial component of SHI's digitally enabled vessels. With D-INF(S) type approval, shipowners can be confident that the onboard critical data infrastructure is verified to meet international standards (ISO 19847/19848) for reliable, safe, and efficient information sharing.
DNV Group President & CEO Remi Eriksen presented the type approval certificate to Mr Jin Taek Jung, CEO of SHI, at the DNV Campus in Høvik during the Nor-Shipping trade fair in Oslo.
Jin Taek Jung, CEO of SHI, said: "Future vessels will be digitally enhanced and offer efficient data communication sharing and cybersecurity between ship and shore. By receiving the world's first D-INF(S) type approval, we can provide safer, more reliable shore and ship services to shipowners and lay the foundation for the evolution of more innovative solutions."
SHI also obtained approval In principle (AiP) at Nor-Shipping for its LCO2 carrier from the Korean Register of Shipping (KR), following on from ABS and DNV approval last year. The LCO2 carrier cargo tank certified this time applied an independent cargo tank (C-Type) to maintain the pressure necessary for the safe transportation of CO2.
Additionally, SHI acquired AiP certification for its 'Structural Health Monitoring System' from ABS.