Pak Shipbreaking Yards in Dire State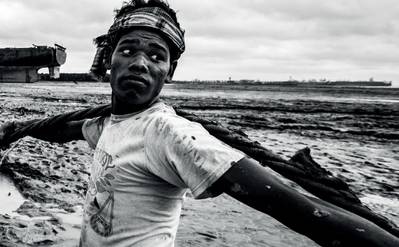 The conditions at the shipbreaking yards in Pakistan are extremely dire, says the annual report by NGO Shipbreaking Platform.
As in
India
and
Bangladesh
, the yards in Gadani operate directly on the beach without any impermeable and drained working areas protecti ng the sea and sand from pollution.
As there is no infrastructure to deal with hazardous wastes in Gadani, dangerous and polluti ng substances such as asbestos, PCBs and residue oils are simply dumped behind the shipbreaking area.
Workers' health and safety are blatantly ignored in Gadani, and trade unions, such as the Industriall-affiliated Pakistan National Trade Union Federati on (NTUF), have voiced strong concerns related to systematic breaches of basic labour rights.
Most of the shipbreaking workers in Gadani are migrant workers from the poorest regions of Pakistan International and local NGOs and trade unions are campaigning for bett er working conditions and environmental protection in the shipbreaking industry.
"We have supported the calls of NTUF and issued press statements to raise international awareness. Following the 1 November explosion, our member organisation, Center for the Rule of Law Islamabad (CroLI), filed a public interest litigation with the Human Rights Court in
Pakistan which
prompted a site inspection and report on the explosion by the National Commission on Human Rights," said the report.
A Ship Breaking Regulatory Authority has been set up by the Government of Baluchistan to develop new and stricter laws for the shipbreaking industry. CroLI is acti vely contributi ng to that process.