Offshore Patrol Vessel Contracts to Ease UK Shipbuilding Hiatus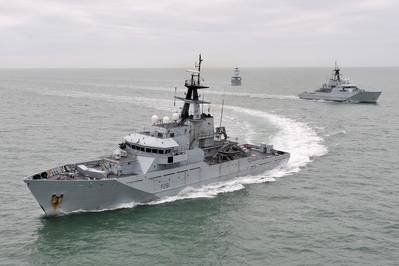 The 3 new ships will be built by BAE Systems at their shipyards on the Clyde in a deal that will sustain jobs in the UK's warship-building industry, and will play a key role in counter-terrorism, counter-piracy and anti-smuggling operations, according to a UK MOD announcement.
The agreement with BAE Systems provides work for the company between the completion of the Queen Elizabeth-Class aircraft carriers and the Type 26 Global Combat Ship, securing the vital skills needed to build the UK's future warships.

Defence Secretary Philip Hammond is also announcing shortly that more than £100 million will be invested in Her Majesty's (HM) Naval Base Portsmouth, which will be home to both HMS Queen Elizabeth and HMS Prince of Wales. The money will expand the dockyard to ensure it is ready for the arrival of the Royal Navy's biggest ever warships as well as for the Type 45 destroyers which are based in Portsmouth.

Building offshore patrol vessels means not only are staff at BAE Systems able to continue to work and maintain their skills, but also the Royal Navy benefits from 3 new ships and the taxpayer gets much better value for money.

The Government adds that the cost of building the ships is funded from money that would have been used to pay for idle capacity, finance redundancies and meet the cost of industrial restructuring.

Portsmouth will maintain its maritime heritage as the home of much of the Royal Navy's surface fleet and the centre of BAE Systems' ship support and maintenance business.
Admiral Sir George Zambellas, the First Sea Lord, said:
"These new patrol vessels will build on the proven performance of the River Class by adding a flight deck to take the Navy's Merlin helicopters and by adding operational flexibility through extra storage capacity and accommodation. They are very welcome."