Shipbuilding: Fincantieri Floats Out Viking Jupiter
Italian shipbuilder Fincantieri said it has floated out the sixth ocean cruise ship in a series for owner Viking Cruises.
The new vessel, Viking Jupiter, which is under construction at Fincantieri's shipyard in Ancona, will now undergo interior outfitting before its scheduled delivery in 2019.
As its sister ships, Viking Jupiter will have a gross tonnage of about 47,800 tons, 465 cabins with accommodation for 930 passengers, placing the vessel in the small cruise ship segment.
The float out ceremony included the traditional coin ceremony, which involved the welding of a silver dollar on the ship's top deck. The godmother of the ceremony was Norwegian singer Sissel Kyrkjebø.
The event was also attended for the ship owner by Torstein Hagen, Chairman of Viking, while Fincantieri was represented by Giovanni Stecconi, director of the shipyard.
The series' first vessel, Viking Star, was built at Fincantieri's shipyard in Marghera and delivered in 2015. The other ships, Viking Sea, Viking Sky and Viking Sun, which joined the owner's fleet in 2016 and 2017, were all built at the Ancona yard, as the fifth ship, Viking Orion, which will be completed within the next few weeks.
Another 10 Viking vessels, including the one launched today, will be launched from Fincantieri's Italian yards between 2019 and 2027, while recently the group's subsidiary, VARD, signed a letter of intent for the design and construction of two special cruise vessels to be built in its Norwegian yards.
In total, Fincantieri said it has 44 cruise ships currently being designed or built in the group's yards.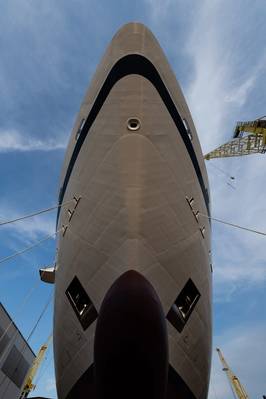 (Photo: Fincantieri)