US Navy Ships Enter Black Sea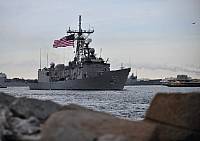 The U.S. 6th Fleet flag ship USS Mount Whitney (LCC 20), with 300 Sailors and Military Sealift Command civil service mariners onboard, arrived in the Black Sea Feb. 4 to conduct scheduled maritime security operations. USS Taylor (FFG 50) will arrive in the Black Sea Feb. 5.

Both ships will perform routine operations in the Black Sea to establish and enhance cooperation, mutual training and interoperability with regional partner nations and allies.

Taylor, with a crew of approximately 200 Sailors, is currently on a scheduled deployment supporting maritime security operations and theater security cooperation efforts in the U.S. 6th Fleet area of operations.