Shipyard Gets Orders for Two More LCS, Business Booms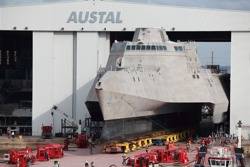 Shipyard Austal report USN order for two more Littoral Combat Ships,

The contract option taken up by the United States Navy funds construction of the Gabrielle Giffords (LCS 10) and Omaha (LCS 12), the third and fourth ships in the 10 ship block buy award made to an Austal-led team in December 2010. That 10 ship program is potentially worth over US$3.5 billion.
Reflecting Austal's growing stature in naval shipbuilding, Austal USA now holds confirmed contracts for 14 U.S. Navy ships while its Australian operation has a contract to build and support eight patrol boats for the Australian Customs and Border Protection Service.
The U.S. Navy work includes contracts for nine Joint High Speed Vessels (JHSVs) also the Coronado (LCS 4) which Austal was contracted to build as part of a General Dynamics Bath Iron Works team prior to taking over as the prime contractor for the 10 ship LCS award. LCS 4 and the first JHSV, USNS Spearhead, are currently being prepared for sea trials, with three other ships currently under construction in Austal's Mobile, Alabama shipyard.
Austal's Chief Executive Officer Andrew Bellamy said the company's U.S. Navy programs provide predictable revenue and workload for years to come.
He continued: "The LCS and JHSV programs alone are likely to generate nearly $900 million in revenue per year for the next few years. With series production on both ship classes now underway, we can focus on achieving higher production efficiency and bringing our Navy customer improved cost and schedule performance."