China Shipyard to Build Two PSV's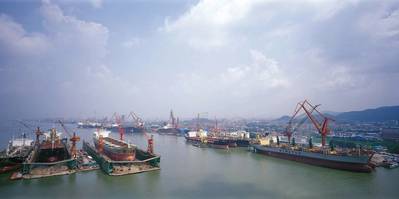 COSCO Corporation inform that two contract options for the construction of two platform supply vessels (PSV) at their COSCO (Guangdong) Shipyard have been declared effective.
The option contracts, valued at approximately US$60-million, were from a Singapore based company.

COSCO add that barring any unforeseen circumstances, the option contracts are not expected to have a material impact on the net tangible assets and earnings per share of the Company for the year ending 31 December 2014.

About COSCO Shipyard
Founded in June 2001, COSCO Shipyard Group Co., Ltd, which is a subsidiary of China Ocean Shipping Company (COSCO), is a large enterprise groups, specializing in large vessels building, marine engineering, construction and conversion, and providing services in ship repairing. The group has shipyards in Dalian, Nantong, Zhoushan, Guangdong Province, Shanghai, Lian Yungang and other places.