US Coast Guard Shipyard Under New Command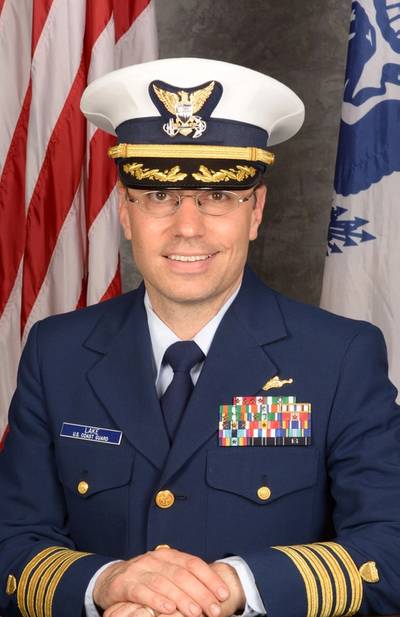 U.S. Coast Guard Captain Matthew Lake assumed command of the U.S. Coast Guard Yard on July 1, 2016. He is the 42nd Commanding Officer in the 117-year history of the yard, the only shipbuilding and major ship repair facility of the U.S. Coast Guard.
Captain Lake took charge from Captain George Lesher who served as Yard Commanding Officer from June 2013 to July 2016. Captain Lesher departed the yard to assume duties as the Ship Design Manager at Coast Guard Headquarters in Washington, D.C.
Captain Lake's afloat assignments include Student Engineer on the Coast Guard Cutter (CGC) Midgett and Engineer Officer on CGC Northland. His shore engineering and logistics assignments include duty at the Maintenance & Logistics Command Atlantic; service as the first Sector St. Petersburg Logistics Department Head, and as the Surface Forces Logistics Center's first Product Line Engineering Chief, implementing the Coast Guard's present-day logistics systems and business framework. Captain Lake served as the Coast Guard Yard's Industrial Manager from 2013 to 2014 where he was responsible for operation of the shipyard.
Captain Lake served as Deputy of the Coast Guard's Office of Budget and Programs where he oversaw formulation and defense of the Coast Guard's $10 billion annual budget with the
Department of Homeland Security
(DHS), the Administration and
Congress
. He later served under the DHS Chief Financial Officer, coordinating formulation and justification of the DHS' $65 billion 2016 President's Budget Request to Congress, and prepared the Secretary for Congressional oversight hearings.
His most recent assignment was as the Coast Guard's Massachusetts Institute of Technology (MIT) Sloan Fellow.
A native of Silver Spring, Md., Captain Lake earned a Bachelor of Science with High Honors in Naval Architecture & Marine Engineering from the U.S. Coast Guard Academy in 1995. He earned Master of Science degrees in both Mechanical Engineering and Naval Architecture & Marine Engineering in 1999 from the University of Michigan and a Master of Business Administration from MIT in 2016.
Captain Lake has been awarded five Meritorious Service Medals, Coast Guard Commendation Medal (with Operational Distinguishing Device), Coast Guard Achievement Medal (with Operational Distinguishing Device), and several unit awards. He is a recipient of the 2010 American Society of Naval Engineers Perry Award; the 2007 Coast Guard Chief Financial Officer's Team Award for financial stewardship, and was awarded by the Secretary of Homeland Security in 2013 for outstanding performance of duty.
Captain Lake takes command of an industrially funded $88 million annual gross revenue business. The current workforce of the Coast Guard Yard is 516 civilian employees and 84 military members. Founded in l899, the yard is a full-service shipyard. It is responsible for repair and modernization of a variety of Coast
Guard cutters
and for the manufacturing of Coast Guard equipment that provides critical service to the Coast Guard fleet.