Boat of the Month: Great Lakes Shipyard Goes Global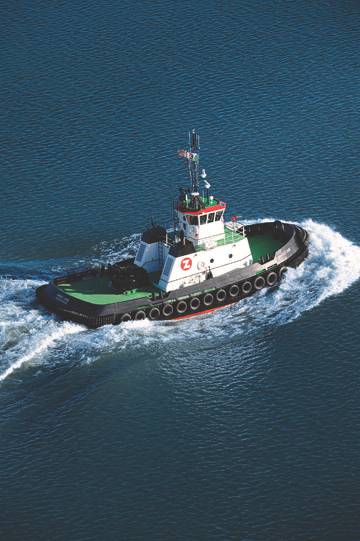 The Great Lakes Shipyard recently started manufacturing tugboats and barges in its new state-of-the-art shipyard facility in Cleveland, Ohio. The first tugboat to be constructed in a U.S. domestic shipyard on the Great Lakes for foreign buyers was sold to Electrica S.A. of San Pedro Sula, Honduras.
When delivered to Honduras in September 2008, the tug will be used in the Port of Puerto Cores, a principal port located on the north coast of Honduras at the beginning of the Pan American Highway System connecting Honduras with the other countries of Central America. This is the first new tugboat built in Cleveland for foreign buyers and is the second new tugboat to be built in Cleveland since 1931. The first tug was complete and sold in April of this year to Tugz International LLC.
A new "green" tug design for harbor and coastal towing, the HandySize Class is described by the company as being just the right size, just the right power, environmentally sound, fuel efficient and versatile enough to accomplish most tug jobs at the lowest operating cost.
Designed in collaboration with Jensen Maritime, the HandySize design aims to fill the niche in the 2,000-4,000 hp tug market for harbor work, fireboats and construction operations as well as for coastal barge towing.
The company expects that rising fuel costs, governmental air emission standards and increased public environmental awareness will make the new HandySize 2,800-3,200 hp tugs attractive to the commercial tug market, and that tug operators will optimize hp and size of tug with their actual needs.
(Reprinted from the August 2008 edition of MarineNews)