Local Shipyard Sells First Hi-speed 47 ft Craft at Dubai Show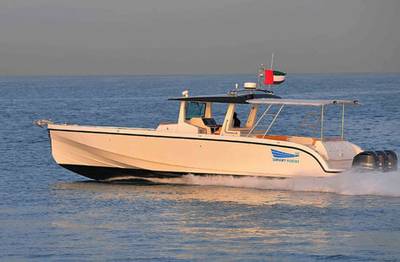 United Arab Emirates boat builder, Samway Marine sells first production model of fast fishing and leisure boat
The sale at the Dubai Boat Show of the Samawy Marine Boat Manufacturing Company's Samawy 44, marks a first for a Emerati builder who cares enough about preserving the marine environment to ensure that the new boat is eco-friendly.
The boat has an open console making the craft most suitable for fishing, diving and day trips, measuring 14.4 metre in length, with three 350hp outboard max engines and a fuel capacity of 1,800 litres, the Samawy 44 is designed to reach a maximum speed of 42knots.

"The Samawy 44 represents Emirati ingenuity and world class craftsmanship in boatbuilding," said H.E Sultan Bin Sheikh Mejren, Founder and Chairman of the company. "Taking advantage of the latest advances in marine technology and design, the Samawy 44 is intended to deliver satisfaction ... We expect to attract huge interest from the Arab boating community being one of the genuine home-grown brands that meet the highest international standards in performance and design," he concluded.
About the Dubai International Boat Show
The show, is for yachts and boats from both local and international builders together with the latest innovations in marine equipment and accessories. The show has the latest leisure boats, equipment and associated services in the Middle East. More than 23,000 international and local visitors attend including key buyers from Kuwait, Qatar and Saudi Arabia.