Spanish Shipyard Launches Grampian Defiance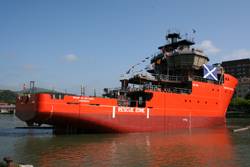 The last in the series of new D class Emergency Response and Rescue Vessels (ERRVs), commissioned by Craig Group in a $55m investment programme, has been launched. The Grampian Defiance, the last of four new-build emergency rescue and response vessels (ERRVs) which will be managed by Craig Group division North Star Shipping, was launched today at Balenciaga Shipyard in Northern Spain.
The new ERRVs – named the Grampian Don, the Grampian Dee, the Grampian Discovery and the Grampian Defiance – represent a continued drive by the group to operate the largest and most modern British wholly owned fleet engaged in the UK offshore industry, supporting 50 installations in the North Sea. The Grampian Defiance will commence a contract with DONG E&P in September to support its North Sea operations. The other vessels have secured long-term contracts with oil companies providing support to their operations in the North Sea.
North Star managing director, Callum Bruce, said: "It's great to see the last in the series of these new D class vessels launched. This is the culmination of our most recent investment in the fleet and will lead to an additional 120 jobs in the marine industry. "The award of these contracts with major operators secures our market leading position in the provision of offshore support, ROV Survey and emergency response and rescue vessels in the North Sea."
Douglas Craig, Chairman and Managing Director of Craig Group added: "These vessels underline our commitment to the North Sea energy industry, demonstrate our continued investment in a modern, safe and efficient fleet and our continuing support for British shipping."
The ERRVs were built at the Balenciaga Shipyard, Northern Spain which has now delivered 19 vessels to Craig Group in the last nine years.
They are designated NSS-IMT 950s, designed by IMT of Montrose and each equipped with one or two daughter craft and one fast rescue craft.
This investment in D Class vessels brings the total new-build programme by Craig Group since 2003 to $337m.