China Shipyard Launches Offshore DP2 MFSV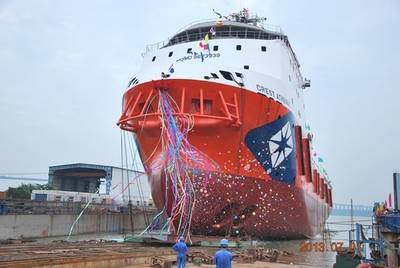 Zhenjiang Shipyard has launched the latest in a series of offshore Multi-Functional Support Vessels (MFSV) for a Singapore cient.
This vessel has accommodation for 200 persons and is complemented by a 4-mooring point & DP2 system for long-term and short-term positioning capacity.
The 78 m long vessel combines offshore rig safety standby, rescue and accommodation capabilities.
Owner's representatives, CISCO representatives and leaders & representatives from Zhenjiang NPC attend the launching ceremony.