Latest USN DDG 51 Warship Sails from BIW Shipyard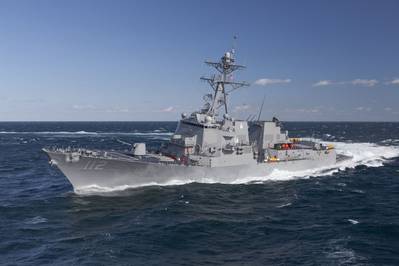 The future 'USS Michael Murphy' (DDG 112) leaves General Dynamics Bath Iron Works (BIW) shipyard for New York City for fleet commissioning.

This milestone marks the completion of the initial 62-ship procurement for the DDG 51 Arleigh Burke-class destroyer program, and the 34th DDG 51 class ship built at BIW, until the class-restart ships begin delivering in fiscal year 2016. 


"This sailaway is a poignant milestone for both this ship and the program," said Capt. Mark Vandroff, DDG 51 class program manager for the Navy's Program Executive Office, Ships (PEO Ships). "This has been, and continues to be, a tremendously successful shipbuilding program. I have every confidence that PCU Michael Murphy, as with the previous 61 Arleigh Burke-class destroyers, will 'lead the fight' and make our world a safer, better place." 


The new destroyer honors the late Lt. Michael P. Murphy, who was posthumously awarded the Medal of Honor for his actions as leader of a Navy SEAL team in Afghanistan. Murphy was the first person to be awarded the medal for actions in Afghanistan, and the first member of the U.S. Navy to receive the award since the Vietnam War. Maureen Murphy, Lt. Murphy's mother, will serve as the ship's sponsor. 



The DDG 51 class ship is a multi-mission, guided-missile destroyer designed to operate in multi-threat air, surface and sub-surface threat environments. The class of ship provides combat capability and survivability characteristics, while minimizing procurement and lifetime support costs due to the program's maturity.