Damen Shipyards Sells First Stan Tug 1205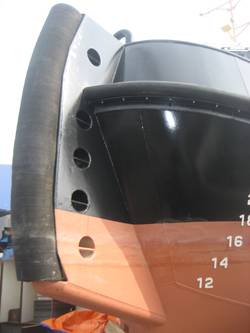 British company Red7Marine has become the owner of Damen's new Stan Tug 1205, the first in a new ship series which was only just unveiled to the market. Damen Shipyards had decided to show its new tug series at the Seawork Show held in Southampton in mid-June. But already on the second day of the international show the first Stan Tug 1205 was sold. "It is rare to sell a vessel directly at a show so we are delighted, especially because she had just come out of the yard," said Casper Vermeulen, Damen Sales Manager Europe.
Three of these Stan Tugs had just been completed in Vietnam and arrived in Europe. Four more of the series are under construction at Damen Shipyards Changde in China. Red7Marine is a relatively new company created just two years ago when a diving company, Anglian Marine and Haven Ports, a civil construction company, decided to join forces.
The new, 9 ton Bollard Pull Stan Tug will have its home port in Harwich and it is likely to be deployed to move the company's jack-up barges around the UK. Previously, the company would charter in tug capacity but it decided that it was more economical in the longer-term to buy its own vessel.
Red7Marine has several barges and jack-ups that are mostly used in areas that are difficult to access. But there is also quite a surge in offshore wind farm developments off the UK so the new vessel can be used to pull barges carrying equipment out to the wind farms.
Extremely quiet vessel
This new tug is well outfitted and an extremely quiet boat. At full speed of around 9.5 knots, the Stan Tug 1205 has a noise level of 55 dB(A). "This is quite unique and simply does not compare to other vessels on the market."
On an older tug noise levels would be around the 80 dB(A) mark., he adds. "At the 55 dB(A) level the crew can work safely for eight hours but with the 80 dB(A) level, there are restrictions on the number of hours they can work."
The wheelhouse is placed on rubber shock absorbers that serve to reduce both noise and vibration levels. In addition, the wheelhouse and below deck have been completely insulated with modern lining materials. A rubber/synthetic floor was also used to further reduce noise levels.
"The Stan Tug 1205 is a very complete vessel, two bunks, a small galley, fridge and a toilet. She has a much more ergonomic design with no vibrations and noise."
The 1205 is a further development of the well-known Damen Pushy Cat 1204 and the Stan Tug 1405.
Meanwhile, Red7Marine's "Haven Supporter" is on its way to Cornwall in the UK. The vessel will be involved in a project to construct a new pumping station for a sewage plant and it can only be accessed by sea.
Damen had named the tug Mirte V and placed it under the St.Vincent registry. But switching the vessel from the St.Vincent Register to the British ensign was to take a couple of weeks. "Red7Marine needed the vessel before that for the new contract so she is now sailing back under her original name Mirte V to the UK. So we had to repaint the name again!" quips Mr Vermeulen.
Damen is confident the new vessel has a great deal of potential, particularly for countries with a lot of smaller ports like the UK.
And already a second customer is showing interest. Dover Harbour Board has operated one of Damen's Pushy Cats for more than 30 years, so is looking to replace it with the Stan Tug 1205.