GPS Marine Contracts Damen for Shoalbuster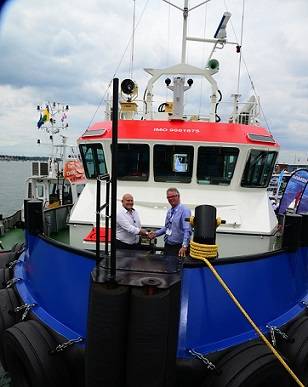 Damen Shipyards Group announced the sale of a 27m workboat, a Damen Shoalbuster 2709 displayed on the pontoons at Southampton U.K.'s Seawork exhibition (June25-27), to GPS Marine of Chatham, U.K.

Casper Vermeulen, Sales Manager Europe, commented, "The Managing Director of GPS Marine came on to the stand and made us an offer for the Shoalbuster displayed on the pontoons. After half an hour of negotiation, we shook hands. Normally, we have a sales history with a client but this unexpected order from a company for its first Damen new build marks a milestone."

The vessel design, which is held on stock by Damen in Gorinchem(the Netherlands) and can be quickly modified to clients' specifications, will be delivered to GPS Marine as soon as possible.

The 27m vessel was acquired to expand the marine contracting operations of GPS Marine, which operates out of the historic British port of Chatham and operates in marine civil engineering, dredging and towage in the U.K., Eire and N.W. Europe. GPS Managing Director John Spencer said, "I'd had a Damen vessel in mind for a while, but a Damen Shoalbuster is already known in the marketplace and therefore popular for chartering. It's a standard, proven design, which will keep its value better than any other vessel in the marketplace."

The qualities of Damen'sShoalbuster design, which increase its appeal to the marketplace, include its reputation for reliability and versatility, being capable of working on civil engineering and offshore wind farm projects, as well as anchor handling and towing.